Happy New Year from Chez Frugal!
It was an eventful, yet peaceful Advent, Christmas and New Year celebration for us. My decorating and baking were done early, so I was able to actually enjoy the festivities. Gifts were under the tree in plenty of time for shaking and guessing dreaming. I must say my sons have become excellent deceivers wrappers. We had record-setting, unseasonably warm weather, except for a few days of bitter, nasty stuff. So, all in all, it was a very lovely holiday season for us.
And it was frugal in a good way. No overspending, much. Great sales meant more gifts to give. For decorating, I used the treasures I've collected through the years.
But those outside lights! How do we offer anything close to the neighbor across the street, so that the main entry street doesn't seem lopsided? Well, we couldn't, but I tried to use what we had, and take a shot, anyway.
Yes, I know, it's almost time to take down or at least turn off the Christmas lights, but here's how I did ours this year. I must be honest. I keep outside Christmas lights well beyond their value. There are 6 heavy tubs of lights, cords, bulbs and plugs in the attic over the garage. Some of them were originally obtained when we bought our first house 23 years ago, in another state. My thought is that they are tucked away, and sometime we will reuse them, in a fresh way, or as a replacement for something else that died. They are not in our way, and aren't hurting anyone. But maybe it's time to purge?
One of the very best frugal tools I can recommend for Christmas lights is the Light Keeper Pro. You've seen this red "gun" in the stores. I can tell you it absolutely works and is worth every penny. Maybe save some Menard's rebates and get one for free, but definitely get one.
You can read my full review, but I tell you, this really is a life light saver. And it really came in handy this year, in particular. No new cost, and savings galore.
This year, because Sparky Griswold uses snowflakes and icicles, we also went with the snowflake theme, mostly from our stash. We have used some large, folding snowflake lights on and off for years. They have some broken clasps, and one of them has a cord that is shorted out beyond repair; we use it for spare bulbs for the others. The Tool From Heaven helped make two big ones sparkle. Some smaller snowflakes are twinkly, and when paired with the large ones, make a festive display on the very long side fence. No new cost.
The side of our house faces a main street in our neighborhood. (Being on a corner has its pros and cons.) Because we have new siding, and a new paint job on the house, we thought long and hard about how to light the house this Christmas. The snowflakes hung nicely along the fence. But the big expanse of siding needed something to balance our neighbor's awesome annual display. That's why we got two of these rotating projection lights ($30 each at Home Depot). Looks like giant swirling flakes. Supposedly.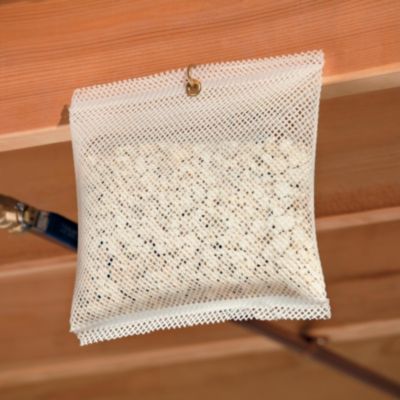 To test them out, we set one up in #2's bedroom when we got them, and it was incredibly cool. (So cool that we got him a non-snowflake version. It's kind of the 21st century black light.) We adjusted the size of the outdoor projection a couple times, but they still were nowhere near as bright as they needed to be, and certainly not as represented above (that's not our house). I think maybe the neighbor's bright lights shone over our display, muting it. Anyway, one of the devices' LED light went out, and since Home Depot didn't have another when we went to exchange it, we just returned them both for full refund. So then, what to do over there?
We have spirea and wiegela along the house on that side, and they're bare for the winter. But I found these snowflake string lights at Michael's, and got three. Sale, coupon, done for about $20. Meh. I'll figure out a way to reuse them next year. But for now they are tossed placed on the bushes to look random.
And the animated deer were set to graze on the lawn again. They were an awesome investment, but need care. Last year it took an hour to find the burned out bulb that caused half of the buck to go dark. Because the Light Keeper Pro can't click away a broken bulb situation, and the strands are wound and woven throughout the frames, with no easy way to get the job done. This year there were two broken bulbs, which threw me off. Such time for these guys. I do it because they end up very pretty, and it makes my neighbors smile. And because I think it's pretty cool when the buck turns his head at the same speed when they pass by in their cars.
This year, between Christmas and New Year, someone tried to swipe the buck (the milder weather unfortunately provides an opportunity for that). It wasn't the wind. I used several spikes and tent stakes to secure each of these guys, and am very glad I did. He was on the ground, but the cord was still connected, and some of the stakes were bent but still reusable. Fortunately, all his lights and parts still work.  No new cost.
I bought icicle lights with colored bulbs for .25 each at the old Bag N Save one January some years back. They have served us well, and, again, I use a shorted set for spare bulbs. DH hangs them straight from the gutter across the front, and voila! Yes, the gutters are freshly painted, but I'm confident the same plastic hooks will not damage the paint. (If they do, I have saved the extra paint for touch-ups.)
This year, something happened between being perfectly lit in the living room and being hung outside. Two separate sections of one strand (the strand in the middle of the three, of course!) went out. I used my light gun to fix one section, but I couldn't easily find the problem with the other part. By that time the mild temps had turned to freezing and windy, so I just descended the ladder. When I was at Menard's I found a short strand of the same lights, for about $3. I attached it over the already installed bum lights, and the plug matched up to where it needed to be! Not perfect, but certainly did the trick.
A few years back, we got a lighted grapevine Noel sign for the main-street side of the house (which has since been resided). When those wicked winds blew, it would bang and scratch the house. That was out for last year, so I got creative with it. I took a play from an architect neighbor's book, and used some spare wood and eyelets to hang on existing plant hooks above the front porch. It has worked very well. This hangs nicely as-is from a rafter in the attic in the off-season.
I have wreaths that fit nicely over the exterior lights. They don't fit quite so well over these newer ones, but we're still using them this year. They show up during the day, and are subtle when the lights are on at night. I'll think about options for next year. I did buy four new red felt bows for .99 each, but the gal at Walgreen's only rang up one, which I didn't realize until a week later. Or maybe they were four for .99 — I never can tell with Walgreen's what the real prices are, anyway. Whatevs.
Our lights along the fence and the side are on a timer at the back outlet. Another timer in the garage controls the deer, the icicles and the Noel sign. I love the timers, and I don't have to worry about turning the lights on or off, or going outside to unplug. but this year they gave me fits. The front timer for some reason did not want to turn on when it cycled. I fixed that. Then they shorted out during a heavy rainstorm. And after I reset the GFCI outlets (and unplugged the back ones from the circuit to dry out), the timer was all messed up. Aarrgg! A little eggnog, and a few Christmas carols later, and all was well with the world again.
For less than $25 in quick fixes, which are also reusable, we had an okay outdoor display this year. I'm already working on next year's design, using some of this year's elements, and some that are still in their storage tubs, unused this year. Since things went up so quickly this year, I'll try to take some extra time and make it more special next year. And I'll probably get started in mid-November. I'll have more time, and it should be warmer than after Thanksgiving.
How did you frugally decorate the outside of your house for Christmas?